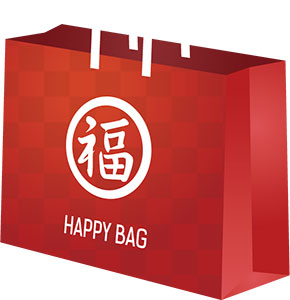 Hi all!  Seems like I can't hold out any longer on making the Lucky Pack post this year.  Many brands are already starting to release LP information and some will soon hold LP reservations.  Please have a look at this entry to see Q&A for LP shopping with my service!
1. Q. What is a Lucky Pack?
A.  A lucky pack, also known as an LP, Happy Bag, or Fukubukuro (the Japanese word) is best described as a "grab bag."  Traditionally, you buy items in a bag which you cannot see before purchasing.  The items are deeply discounted, but you don't know what you are going to get.  More often, with a lot of lolita fashion and other J-fashion brands, they give you a pretty good idea of what you will get, however you might not get to choose color, cut, etc. Other times you can. Size is generally one size fits all, although some brands do sized LPs.  Each brand is a little different!
2. Q. When do Lucky Packs go on sale?  How do you buy them?
A.  Traditionally, January 1st or 2nd, depending on the area, stores open very early to start New Year's sales- depending on the store, the first day/opening hours may be dedicated solely to LP sales.  You must go early in the morning and wait in line for some time to be let into the department store in small groups.  Later in the day the stores will transition into discounts on in store stock if they run out of their LPs.  In my city, most LPs go on sale from the 2nd, and I shop in store for LPs on this day.
In the past years, many brands have started do reservations weeks before the new year for the LPs.  These are not delivered until after the new year, but if you can get spot in the reservation then you don't have to worry about getting one in the crazy New Year's Day/day after lines.  Brands like Amavel and Axes Femme are holding reservations in the coming week, while others like Swan Kiss, Ank Rouge,  Cecil McBee and many others have already opened reservations.  Liz Lisa is another brand that has really popular LPs each year, and they also usually do early reservations early to mid December.  I will also likely do Swimmer LPs again this year if there is interest as there was in past years.
Currently most people are contacting me about BTSSB/AatP and Angelic Pretty LPs.  If the pattern follows past years, these brands will also do a reservation ahead of time early to mid December, although there is usually tough competition.  I am willing to try online and in store for these brands.  AP has released NO info to date that I am aware of about the type of LPs or the special print they  usually do each year.  Baby/AatP on the other had some photos surface on social media over the weekend, so LP season definitely feels like it's moving along quickly now.
Regardless if the LPs are reserved in store or online in advance, the LPs do not actually arrive or ship until after the New Year.  They might not arrive until a few weeks later in some cases, and as I usually have quite a lot of LPs to process and ship post New Year, it can take me 2-3 weeks to get them all shipped as well.
3.  Q. How much do LPs cost?  What about your fees?
There is no easy answer to how much LPs cost. There are usually several price points even within one brand.  Please check out the LPs of the brands you are interested in!
My fee for LPs is something I determine each year.  LPs are a lot of work but priced cheaply, which makes my commission lower despite the all extra work that goes into the LP shopping process. My commission fee for LP shopping will be 10% or $10 per pack ordered, whichever is the greater value.  Other non commission related fees are as usual: with online orders, as always, there may also be domestic shipping and ATM/COD fees, where as with in-store LP shopping there will be the usual transport fee.  In store LP shopping may include a small extra fee to cover potential taxi rides, multiple trips, and delivery service fees incurred getting the massive amount of LPs purchased back where I can process them.
4.  Q.  I want an LP!! How do I request one?
Just like any other claiming, such as with original print releases, before you can claim a spot for LP shopping, you must be able to tell me what LP you want me to try for. Depending on the brand, this will mean that I need a price point/type cut/style and color…  So, for example, you know you really really really want an Angelic Pretty LP, but you don't know anything about the kinds of LPs they will offer yet.  You are worried you might not like the cuts or print they do this year and might change your mind after you see the LP info AP releases.  You may also worry that they might not be in your size or may be out of your budget.  At this point, you still have uncertainly about your claim, and so cannot yet claim a spot. On the other hand, if you are 100% certain AP can do you no wrong and you will love whatever they dish out  at any price and size this LP season, and you know you want a certain cut and color, or are open to any/multiple cuts or colors, you can claim a spot and be locked in for it.  AP hasn't really changed their pack types for several years so it is easy to guess at what they will release this  year as well- except for what they will look like.   However, when AP releases information regarding the type of packs and the print is of radioactive cupcake monsters playing in chocolate mud puddles while sprinkles rain down from marshmallow clouds- and that isn't your thing- you are stuck with your spot.  If the item you claimed doesn't exist, you lose your spot (for example you wanted the saropetto LP, but there is no saropetto LP this year).  PLEASE DO NOT CLAIM SPOTS LIGHTLY.  If you are unsure, don't risk it, just wait until there is info released.
I take LP requests in the order that I receive them. If more than one person wants the same LP, the first person to contact me has priority, and other people wanting that pack will have to line up in order after that.
Please do not contact me requesting an LP until you can give the details of the LP you want to claim (with back up info if you have it).  It is very useful to have a picture or link to go along with your request, if possible.  You can use the Shopping Forms under In Store and Online Shopping to find the form used to request shopping (not just LPs, but all shopping!)
5.  How much will an LP cost to ship to me?
I am sorry, I cannot tell you in advance how much shipping will cost from Japan to your home country.  LPs come in all different sizes with all different kinds of contents.  Remember, LPs are usually packed with clothes so can be both heavy AND bulky, which means it is not possible to send full LPs via Airmail or SAL, leaving EMS shipping only in many cases.  Please leave plenty of buffer room in your LP budget to accommodate international shipping costs.
Keep up to date with LP and other shopping news here on the Tenshishop news blog and Facebook, please be sure to check both out!