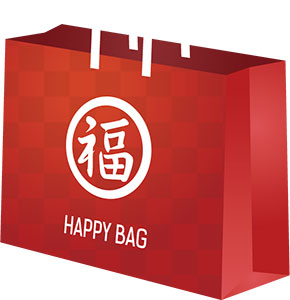 Hi all! As December grows nearer, Lucky Pack season is gearing up!  Here is a guide to some of the most frequently asked questions I get about Lucky Packs each year, and some info on how you can request them.
1. Q. What is a Lucky Pack?
A. A lucky pack, also known as an LP, Happy Bag, or Fukubukuro (the Japanese word) is best described as a "grab bag." Traditionally, you buy items in a bag which you cannot see before purchasing. The items are deeply discounted, but you don't know what you are going to get. More often, with a lot of lolita fashion and other J-fashion brands, they give you a pretty good idea of what you will get, however you might not get to choose color, cut, etc. Other times you can. Size is generally one size fits all, although some brands do sized LPs. Each brand is a little different!
2. Q. When do Lucky Packs go on sale? How do you buy them?
A. I buy LPs in one of two ways.
In store:  Traditionally, retail stores in Japan open either January 1st or 2nd depending on the region.  Stores open very early to start New Year's sales, so people often start lining up well before sunrise.
Online: Many brands have started doing reservations via their online shops usually starting late November through December. If you can manage to get an LP in the reservation you don't have to worry about missing out in the crazy New Year's Day lines.
LPs reserved online in advance will not arrive until on or after January 1st.  Due to high request volume, it can take me 2-3 weeks to get them all shipped, as well.
3. Q. How much do LPs cost? What about your fees?
There is no easy answer to how much LPs cost. There are usually several price points even within one brand. Please check out the LPs of the brands you are interested in.
LPs are a lot of work but priced cheaply, which makes my commission lower despite the same amount or more work going into getting them as regular shopping. My commission fee for LP shopping, as in past years, will be 10% or $10 per pack ordered, whichever is the greater. Other non commission related fees may apply as usual:  domestic shipping, ATM/COD fees with online orders, and transportation with in store orders.
4. Q. I want an LP!! How do I request one?  When do I request one?
Just like any other claiming, such as with original print releases, before you can claim a spot for LP shopping, you must be able to tell me what LP you want me to try for. Depending on the brand, this will mean that I need a price point/type cut/style and color. PLEASE DO NOT CLAIM SPOTS LIGHTLY. If you are unsure you want an a certain LP, or unsure if you want to take the risk of getting something you don't like, please wait to contact me until you are 100% commited to your request.  You cannot return a Lucky Pack because you do not like the contents.
As for when, I take requests first come first serve. I suggest you follow the online shops, social media, and blogs of your favorite brands to see when they release info about their 2018 LPs.  Contact me as soon as you have some info!
As with all shopping, you need to use an In Store or Internet Shopping request form to request your desired lucky packs.
5. How much will an LP cost to ship to me?
I am sorry, I cannot tell you in advance how much shipping will cost from Japan to your home country. LPs come in all different sizes with all different kinds of contents. Remember, LPs are usually packed with clothes or other items, and so can be both heavy and/or bulky.  In many cases it is not possible to send full LPs via Airmail or SAL, leaving EMS shipping as your only option. Please leave plenty of buffer room in your LP budget to accommodate international shipping costs.
Please watch the Tenshi Shop Facebook and Instagram pages, I will try to post when I see brands update with Lucky Pack info!