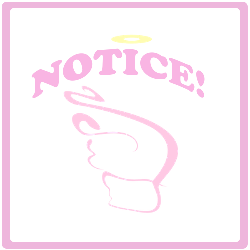 Tenshi will be going abroad in October, which means that app and auction services as well as some in store services will be closed for part of October. Please read below for more details.
App (Mercari/Rakuma/Paypay Flea Market) and Yahoo/MBOK Auctions Services will be closed from Oct 1st- 24th.
In order to be sure all items arrive before Tenshi departs Japan, app and auction services will be closed from October 1st to October 24. Any items that do not arrive before Tenshi's departure will have to be checked off in the app as received regardless of if they have actually arrived, so if you are ordering an app item with a 4-7 day delivery window right at the deadline, please be aware that there is a risk it will have to be marked as arrived without actually checking it/having it in hand.
In Store Services will only be partially open.
In store shopping will be partially closed from October 9th-24th. With a family member's assistance Tenshi will honor Saturday Angelic Pretty release claims for any original prints/items that happen to be released on October 15th and 22nd (the two Saturday release days that fall during Tenshi's absence). AP leaves too little of a window between announcement and release, and coupled with the traveling and the time difference, it will be too hard to arrange claims quickly like usual. You can always try to send a last minute request form, but for these two Saturdays of releases you might not get a response in time, please do not expect the same promptness as if Tenshi were handling the releases in person! For any new items teased while Tenshi is away, but not necessarily released during her absence, claims will be accepted.
Baby/Alice and the Pirates in store pick ups and reservations will be accepted.
In store shopping for other stores will be closed while Tenshi is gone.
Online shopping will be open.
Tenshi will keep online shopping from professional stores open throughout her time abroad provided the websites function outside of Japan/are not IP locked to a Japanese IP. Response time might be slower than usual, but during downtime Tenshi will respond to online shopping requests.
Preparations have been made for preorders and deliveries during Tenshi's time abroad.
If you have preordered an item that is due to release in October, please do not worry about your package being returned to the store due to Tenshi's absence. Arrangements have been made for the acceptance of packages while Tenshi is away. Your order will be processed sometimes after Tenshi is back in Japan.
Shipping will be suspended from October 11th.
While the exact day is not yet decided, Tenshi's final shipping day before departure will be between October 6th and 10th. The resumption of shipping will depend on how quickly Tenshi works through the backlog, but it is likely the first shipment after she returns will not be until the first week of November.
Response time will be slow. Catching up will take time.
While Tenshi is away you may not get responses as quickly as you are used to. She will have a wifi service throughout the trip, however might not be able to answer in the usual 24-48 hours. After returning, Tenshi will have a backlog of orders and shipping prep to work through. Please be understanding that it will likely take a few weeks to get fully back into the swing of things.
Things might not go as planned.
This is Tenshi's first trip abroad since the COVID pandemic. Japan has eased re-entry procedures for vaccinated residents, but things are of course things still quite unpredictable. There is a chance that Tenshi's trip may have to be extended/adjusted, and some services might not resume exactly as outlined above.
**In addition to the trip abroad, Tenshi will be out of town (within Japan) from Oct 3-5 and unable to process invoices, shipping, which will cause further back up and delays in the lead up to the big trip. Your patience is appreciated.
Tenshishop is a one person run shopping service, so unfortunately it cannot fully function in her absence. Your understanding is appreciated!