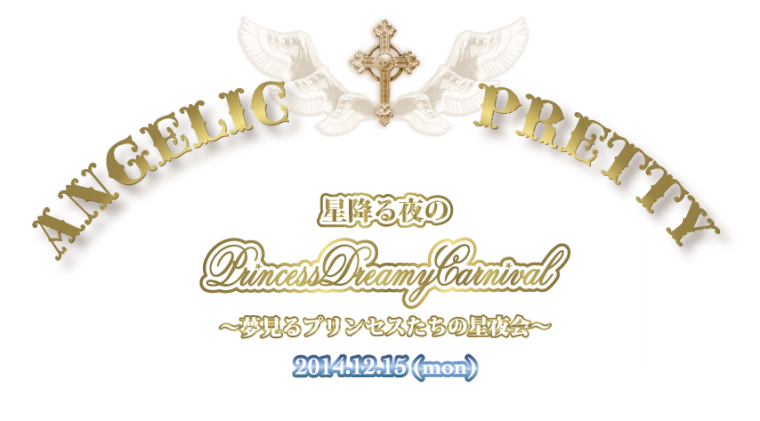 Hi all!  I want make a general update post now that I am back from a day of crazy but successful releases and the start of a Christmas Sale at Angelic Pretty!  Congrats to everyone that got Mercator's Antique Shop from AP today!  I will make several important updates in this post, so please be sure to read on, thank you!
From Sunday Dec. 14-15th, I will be in Tokyo to attend the Angelic Pretty Princess Dreamy Carnival Tokyo Tea Party.  There are special items due to be announced, as every year.  So far, nothing is really known about the special items for the tea party, things have been kept very under wraps!  All that is known is that there will be some kind of Imai Kira collaboration announced.  Please try to watch the Tenshishop Facebook page for updates.  I am happy to help make orders for any special items that pop up at the party, as long as the rules permit it!  I will take requests first come first serve as always.
The second bit of news is about a new items coming out!  At AP there is something that I think many of you will be interested in!  AP is due to release "glitter shoes."  These are shoes that are covered completely in glitter, the most famous ones probably be those done by Emily Temple Cute.  AP's are due to come out in gold, silver, pink and black, and will have some kind of pearl detail on the strap and a ribbon- very "Angelic Pretty" style- I heard!  So please watch out for these, they are likely to be very, very popular.  They will come in standard AP size S, M, L.
At Baby, there is a new very classical style print called Espirt de la Belle Epoque a Paris will be coming out for reserve from Dec 18.  The series will be featured in the upcoming Dec. 16 KERA Magazine, I got a sneak peak at the ad today!  The series is very pretty, so please look forward to it!
The third bit of news concerns in store sales that will start to pop up, and have already, in store at some lolita stores.  There are some general rules about sale shopping that make it different from regular shopping.  Please keep the following in mind when requesting sale items (these are in the service rules, but just as a reminder):
The commission fee on sale items is taken on the full price.
When shopping for sale items, it is best to be as open as possible to back ups/other colors/other items.  This is because sale items are NOT transferable from store to store like full price items.  If you really want an item that has gone on sale, and are willing to pay full price, then the item can be transferred in from another store.  However, the sale price does not remain on items transferred between stores. (there are sometimes exceptions towards the end of the sale season)
Because of the non-transferring of sale items mentioned above, this means that the sale price applies ONLY to item stock in the store.
Sale items cannot be requested by phone or put on hold.  This means sale item shopping must take place in store, in person.
And the last bit of news concerns my service status now and in the upcoming holiday season.  Due to the sheer number of releases that have been going on, as well as "by Christmas" requests, my service is currently terribly backed up.  While I have confirmed and open orders for many shoppers right now, invoicing, packing, and shipping are delayed.  This is compounded by the fact I will be out of town the next two days and also the fact that the holidays are coming up.
I tried to make a shipment today but the post office refused a pick up because of some inclement weather we suddenly experienced in my city today. I will try to make one last shipment next week when I get back so that things have a chance of making it before Xmas!
About my service during the holidays: I will be in Japan throughout the New Year, however, I have family visiting me in Japan from December 20th through 29th.  During this time, I will not officially close, but I will also not be checking my email as often, maybe once before bed each evening.  New orders and bid requests might be turned down or greatly delayed.  Urgent orders and last minute bidding will not be possible at all through the New Year.
For those of you with open services   with me currently, I greatly apologize for the wait during the holidays.  I will be on holiday from my full time job though, so hopefully after Christmas, before Lucky Pack madness, I will have a few days to fully dedicate to invoicing, packing, and getting everyone's packages out! Your first packages of the year may very well be from TenshiShop, and I hope that is a good way to start!!
Happy, HAPPY Holidays everyone!  Thank you so much for supporting me, my service, and TenshiShop!  This service has introduced me to so many awesome people all over the world, and I am very happy to be chugging along with it into 2015.
Much Love,
N @ TenshiShop