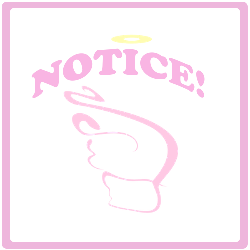 Hello and Happy 2017!!  A new year and some new changes for Tenshi Shop!  Please read the important announcements below.
First, there have been some import changes to Tenshi Shop's Terms of Service (TOS), so please be sure to check them out before your next service.  You can find the TOS for each type of shopping here:
The main points are:
1. Tenshi Shop will no longer offer to ship packages without tracking. Unfortunately, with Paypal as the main method of accepting payments from shoppers, I have no protection as a seller if a package is not traceable. Even with proof that the shopper chose/requested non traceable shipping, Paypal will not protect me as the seller.  To protect myself from unwarranted charge backs, packages can only be sent via:
EMS  (Shopping Services and Tenshi Shop Online Shop orders)
Registered Airmail (Shopping Services and Tenshi Shop Online Shop orders)
Registered SAL (Shopping Services only)
2. E-Check will no longer be available as a payment method via Paypal.  E-checks have become increasingly unreliable, take too long to clear depending on the country, and leave me without funds while processing.  Please transfer enough money into your account before shopping, or be sure your account is properly set up to pay instantly with a linked bank account or credit card.  If you are having trouble paying your invoice because of technical issues on Paypal, please let me know.
Second, there is a big overhaul to the website planned to add a new type of shopping service!  This will be a section for App Markets, a shopping platform that has become very popular with the spread of smart phones.  App Markets are based in apps for smart phones and allow private individuals to create their own shops to sell their personal items.
In Japan the two most popular shopping apps are FRIL and Mercari, on which you can find people selling just about everything.  There is also a popular one called OtaMart (Otaku Mart), which specifically focuses on "otaku culture" related items, like anime, manga, figures, and character goods.  I have also shopped on Rakuma, which replaced Rakuten Auctions in late 2016.
I have already been offering shopping service for these apps for some time, but adding a formal section to the website takes a lot of time and help from my web admin, who is quite busy.  So for now, please note the following:
The Auction Shopping fee structure and TOS apply to App Shopping, so please have a read if you are thinking about shopping from an app market.
You can use any of the Request Forms to request App Shopping, but it is recommended you use the basic Shopping Request Form and check "App Shopping."  The Auction Shopping Request Form is a bit bulky for the purpose of App Shopping because there is no bidding involved.
Guides for FRIL and Mercari are available and will be uploaded in a News post soon.  Please watch for guides for these apps and others mentioned above.  I can provide the FRIL and Mercari guides directly if you would like, please mail me at service@tenshishop.com !